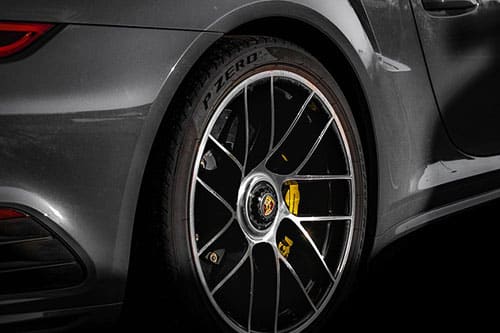 Bavarian Rennsport supplies and installs a full line of quality selected tuning & performance upgrades for Porsche vehicles. We can also complete the installation, and tuning of upgrades if you have already purchased the products from another source. Most importantly, we can continue to support your vehicle for service and repair work after the modifications have been made.
As true enthusiasts, we believe in building driver's cars! – upgrades and modifications should enhance the performance of the car and your enjoyment while driving.
Call (904) 270-9390 for Porsche Performance Parts and Service.
Porsche Performance Modifications Cover These Specified Areas
Brake Upgrades – OEM or Aftermarket Supplier
Brakes are considered one of the most important parts of your vehicle because you can make all the power in the world, but if you can't stop it won't matter. Here you'll find performance brake rotors, brake pads, brake lines, fluids, and more. Whether it's a full big brake kit system you need or the best stopping stock replacement brake parts available.
Cooling
The cooling system is critical to the performance and longevity of your vehicle's engine. A cooling system works as a whole by circulating fluid to transfer heat away from your engine's vital internal parts. A cooling failure can leave you stranded, or much worse resulting in engine failure. Preventative maintenance should be done every 60k miles or 5 years. We regularly inspect hoses, radiators, thermostat, expansion tank, water pump, fans, and fan clutch to help you avoid catastrophic engine overheating. Don't ignore leaks, bulging and dry rotted hoses or low coolant warnings!
Cosmetic Body & Aero Modifications
Bavarian Rennsport offers a full cosmetic, and performance service of installing carbon fiber/FRP lips, splitters, spoilers, diffusers, facelifts, vinyl wrap, ceramic coating, paint, and body. These exterior body panels and aero parts can provide your vehicle with everything from maximum aerodynamic performance gains, all the way to parts required by certain race-sanctioning bodies as well as premium-quality parts. Make your vehicle look as great as it performs.
Driveline Tuning – Flywheels, Clutch Kits, Transmission, Built Differentials
The driveline and drivetrain parts of your vehicle include everything from your clutch and transmission back to your differential and hub assemblies. Whether you're replacing with OEM drivetrain parts, looking for high-performance aftermarket parts for the street or upgrading to all-out race parts – call Bavarian Rennsport.
Exhaust
Custom or Aftermarket exhaust systems and parts do much more than just tone or increase exhaust noise. Installing fresh exhaust hardware and emission parts keep your European vehicle working properly without having to worry about exhaust flow or unhealthy amounts of back pressure. If a better sounding exhaust sound, reduced weight, or improved exhaust flow providing more power are your goals, check out our exhaust options that can significantly improve your vehicle whether it be in a daily driver, track, or race car.
Intake
Intake and fuel delivery parts are essential to receive a higher output in the engine and performance department. No matter what type of vehicle you have the more air and fuel you can mix together, the bigger the internal combustion equalling more power for your Porsche. Even if you are not looking for increased power, keeping your vehicles intake and fuel delivery systems in prime working order will help improve economic efficiency and performance by allowing the vehicle to breathe or operate without being constricted.
Performance Engine
The engine is the heart of any vehicle. It's where all the mechanical, power-producing magic happens. Porsche engines are known for producing acclaimed power, smoothness, and longevity when maintained with quality engine parts. At Bavarian Rennsport, engines can be modified to produce more performance on the street as well as record-breaking power on the track. Let us build the performance engine of your dreams!
* High-Performance Engine part options include*
Upgraded Valve Train
Upgraded Camshaft
Cylinder Head Port & Polish
ARP Head Studs
Cylinder Sleeves
Fire Rings
Forged Pistons
Forged Rods
ARP Rod Bolts
ARP Main Studs
Safety & Racing Products
Safety & interior parts are an area of your vehicle where you should never skimp or do without professional experience. Motorsports are one of our biggest passions, and we enjoy every second we're on track, but there's also a high level of risk involved. This is why we offer only the absolute best and proven choices for safety and interior parts – premium-quality parts we feel safe installing in our own PORSCHE and those of the people we know and care for.
Suspensions (Coilovers & Lowering Springs)
Suspension & steering is where Porsche has a renowned reputation. That doesn't mean factory suspension parts don't wear out, nor does it mean we can't make your vehicle's handling and steering better. Whether you need an OEM replacement suspension parts, shocks, struts, coilovers or high-end race dampers – Bavarian Rennsport has you covered.
Software Tune
After you make certain performance modifications to your vehicle it may run rich- (too much fuel and not enough air), or lean -(to much air and not enough fuel). If you run into these problems that means it is time for a software tune. A software tune allows your vehicle to run at optimum performance with these specific modifications. Understanding how the stock software in these vehicles work is fundamental to extracting more power safely.
As performance specialists, we only work with tuners that have advanced knowledge of European engine computers and software. Our goal when tuning is to optimize the engine tuning while not affecting drivability or smoothness of the vehicle. We only supply reliable and safe software tuning upgrades for your European vehicle.
We Offer Multiple Software tune options ranging from COBB, AWE, RWB, RUF, TECHART, and more.
Engine Tuning – Turbo Chargers and Super Chargers
Turbo Chargers
Looking for the best PORSCHE turbo parts on the market? We provide OEM replacement or Stage 1, Stage 2, And Stage 3 turbos. After many years and miles, a stock turbocharger and its turbo parts will typically need to be replaced. Our OEM replacement turbo units are made by the same manufacturer used by PORSCHE and in some cases may be Genuine OEM.
Super Chargers
Adding a supercharger to your Porsche vehicle is a great way to achieve forced air induction. The difference between a turbocharger and a supercharger is their source of energy. Turbochargers are powered by the mass-flow of exhaust gases driving a turbine. While superchargers are powered mechanically by belt or chain-driven from the engine's crankshaft.
Wheels and Tires – OEM or Aftermarket Wheel Supplier
Not only can new wheels & tires completely change the look and feel of your vehicle to suit your personal preferences, they're one of the most important performance-defining areas. A Diverse wheel and tire option will not only deliver great looks, but also lightweight and durable performance with proper wheel fitment to make sure everything works efficiently and safely.